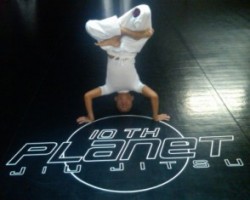 I just got back to Las Vegas from 10th Planet Jiu Jitsu spring break, it was awesome.
We went to southern California to visit family and friends.
I had a great time.
We also went to the beach which is something I really love to do.
But as always no matter where I go I have to train.
So on this trip I trained at 3 different 10th Planet Jiu Jitsu schools in the southern California area.
Sorry I didn't get any pictures this trip.
The first place I trained was at 10th Planet Jiu Jitsu Vista, near San Diego.
I learned some great 10 Planet Jiu Jitsu techniques from the Tuff N Uff Champion Sean Bollinger and Ryan Fortin.
Also learned some crazy break dance moves from the Freak Show, these guys have the sickest break dance moves on the 10th planet.
When I was in Riverside I was training at my home away from home 10th Planet Jiu Jitsu Riverside.
I got to train with Jeremy Fields and Sean Bollinger for Jiu Jitsu and Christian Arellano for wrestling. It was great fun

10th Planet Jiu Jitsu HQ
Then my dad said he was going to take me to 10th Planet Jiu Jitsu HQ in Hollywood Ca.
Hollywood is the home of 10th Planet Jiu Jitsu founder Eddie Bravo, who is a 2nd degree Jean Jacques Machado black belt.
Eddie Bravo taught us some crazy moves, one I love is the flying Guillontine.
Eddie was super nice to me like he always is.
I really appreciate everything he does for me.
I cant wait for summer when I get to go back to California for some more 10th Planet Jiu Jitsu.
Thanks everyone at 10th Planet Jiu Jitsu HQ, Riverside and Vista for everything you guys do for me, I really appreciate it.
See you all again soon.