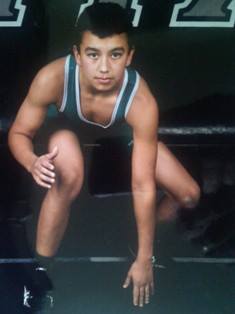 Rion Almeida fell in love with MMA (Mixed Martial Arts) at a very young age.
He has dreamed of one day becoming the Ultimate Fighting Champion.
He began competing by wrestling for two seasons when he was 5 and 6 years old, where he won 10 medals.
After that he was hooked and began training Muay Thai Kickboxing under the tutelage of Master Toddy.
He received his green belt from the Muay Thai International Association.
March 2010 he began training in traditional Brazilian Jiu-Jitsu wearing the Gi.
Rion Almeida quickly realized wearing the Gi was not going to be the best thing for High School Wrestling and his future in MMA.
So he sought out the best No Gi (Luta Livre) type training on the planet, 10th Planet Jiu Jitsu.
Rion Almeida's current home gym is 10th Planet Jiu Jitsu Las Vegas. Where he trains under 10th Planet Black Belt Casey Halstead.
He also frequently trains with Eddie Bravo at 10th Planet Jiu Jitsu Head Quarters in Hollywood and with Sean Bollinger at 10th Planet Jiu-Jitsu Riverside.
He recently got promoted to yellow belt by 10th Planet Jiu Jitsu founder Eddie Bravo.
Eddie Bravo is a second degree black belt in Brazilian Jiu Jitsu under Jean-Jacques Machado.
Rion Almeida currently competes in No Gi (Luta Livre) grappling, Wrestling and Pankration events on the west coast.
With some corporate sponsorship he will be able to compete nationwide.
When he is old enough he will begin competing in MMA Mixed Martial Arts.
When Rion Almeidas not training he stays very active riding his bike, skateboarding, Parkour (free running), shooting his Ruger 22 and even does some break dancing.
He is not only a exceptional athlete, but also a very smart young man.
He is taking advanced placement classes and is a "AB" Honor Roll student and recently received the Presidential Award for academic excellence.
He is available for competitions, fight stunts, acting and modeling. Inquire within.
Fast Facts about Rion Almeida
Height; 5′ 8″
Weight; 115 lbs
Age 17
Nationality; Latin American
Birthplace; Seattle Washington
Religion; Christian
Fight Style; 10PJJ, Luta Livre, Muay Thai
Status; Competitor
Goals;
10th Planet Jiu Jitsu Black Belt from Eddie Bravo
Luta Livre Black Belt from Marcelo Brigadeiro
UFC Champion
Current Rank;
Yellow Belt in 10th Planet Jiu Jitsu
Orange Belt in Luta Livre
Green Belt in Muay Thai
Sponsors;
10th Planet Jiu Jitsu
Fight Dentist
Datsusara MMA
Team Acme
Skin Industries
Media;
Vegas Seven Magazine 11/24/2010
TapOut Magazine issue 43 2011
MMA Worldwide issue 28 2011
TapOut Magazine issue 44 2012