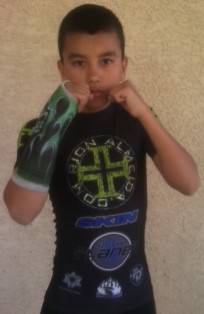 Dear Sirs,
Rion Almeida currently competes in local Wrestling, No GI Jiu Jitsu and Pankration events.
With additional support he will be able to compete on a National level.
By participating as a sponsor, your company will benefit from the following;
Extended media exposure due to the thousands of people who attend this events, which some are televised, in print media and on the internet.(Rion was recently featured in Vegas Seven, MMA Worldwide and Tapout magazines)
He will wear your logo on his uniforms when competing and training.
A link to your website or contact info will be put on the Sponsors page of this website.
Your company will be mentioned on the Bio page of this website.
Your company logo will be put on Rions walkout T-shirts that will be worn at tournaments, sold and given away for promotions.
The vehicle used to take him to train and to tournaments will be wrapped and will contain your companies logo.
A press release stating information about your company supporting Rion will be put on his website and facebook page.
He will be available for appearances, commercials and modeling for your product or service.
Rion will positively promote your company on and off the mats.
As you can see you will be able to enjoy excellent exposure to this important segment of your target audience.
Rion has many different sponsorship needs such as;
Monthly training expenses
Tournament entry fees
Travel expenses
Uniforms and equipment
Supplements
You can select the level of support that your company can participate in, and be secure in the knowledge that your support will be used to help Rion achieve his dreams, as well as increase exposure to your company.
Rion is counting on your support and I will be happy to answer any questions you may have.
Please email me at ron@rionalmeida.com for more information.
Thank you in advance for your willingness to support Rion and make a difference in his career.
Sincerely,
Ron Almeida