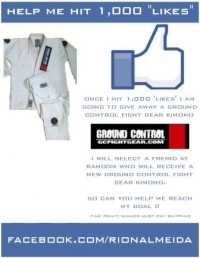 Help me reach 1,000 "likes" for your chance to Win a Ground Control Kimono…
Prize
Ground Control Kimono or equivalent if out of stock.
If you have never worn a GCFG Kimono you don't know what you are missing.
This Gi is the best quality Gi I have worn to date and I have trained and competed in many different brands of kimonos.
What to do first
Simply go to my facebook fan page and "like" it, thats it you are now entered.
Here are a couple things you can do to help speed things along.
Suggest to your friends, Rions facebook fan page
Share, Rions facebook fan page
Rules
As soon as  I reach 1,000 "likes" I will choose a fan at random and post them on my wall, then the winner will need to contact me with their size and shipping details.
Fine Print
The judges decision is final. There will be only 1 prize. The winner must pay shipping.