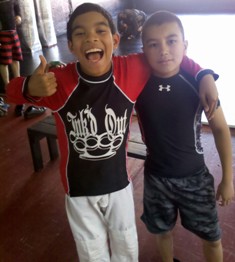 Healing Tyler is a website setup to bring awareness to the Nephrotic Syndrome disease.
I met Tyler Ransom at 10th Planet Jiu Jitsu HQ on spring break.
He is a 11 year old boy with a kidney disease called Nephrotic Syndrome.
Tyler Ransom was a great training partner and a tough kid.
Together we learned Jiu Jitsu and I also learned a little about what he is going through and how he is trying to increase public awareness about his disease.
The cool thing is he loves Jiu Jitsu just like I do and he doesn't let his illness get in the way of his training.
Actually he uses Jiu Jitsu for two purposes, one as a kind of therapy and the other as a way to teach others about his disease.
I am planning to come back to California and train alot more with Tyler Ransom.
I want to learn more about his disease and how I might be able to help him.
Healing Tyler
Please visit Healing Tyler Ransom to find out more about him and how you can help people with Nephortic Syndrome.
Healing Tyler is a website designed to help Tyler and others with the same disease find a cure.
If you would like Tyler to come to your area to teach you about his disease, contact him at his website.
Thanks, Rion