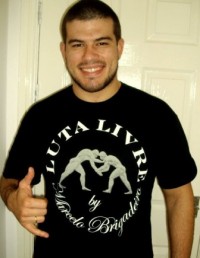 Rion has been doing research on the different grappling arts and found a interest in Luta Livre Esportiva, the no gi grappling art from Brazil.
Marcelo Brigadeiro is a black belt in Luta Livre from Renovação Fight Team (RFT) in Brazil and he took the time to answer a few questions.
Can you start by telling us a Brief history of Luta Livre?
Luta Livre started over 5000 years ago in the old egypt. Then after being very popular in Greece, Rome and around the world, it hit Brazil in the beginning of the last century. There, it was developed into the Luta Livre we know nowadays.