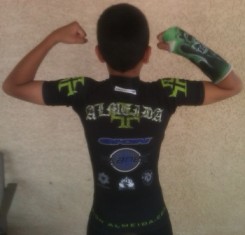 Skin Industries, the leading sports fashion company does it again!
They have designed and fabricated custom fight rash guards for youth amateur fighter Rion Almeida.
Thanks to Skin Ind, Rion now has his own personal branded rash guards for competing in.
Rion has been working with the Skin Industries artist to design his own personal logos.
The designs were developed for Rions signature line of products which will be out soon.
The logos will help with his personal branding as he moves up in the amateur ranks to becoming a professional fighter.
Together with Rion's logos and those of his sponsors: Skin Industries, 10th Planet Jiu Jitsu, Fight Dentist, Datsusara, and Team Acme.
Pictured is the rash guard that they custom made just for him to train and compete in.
The picture on the upper right is the back of the rashguard that represents Rion's tattoo logo design and those of his sponsors.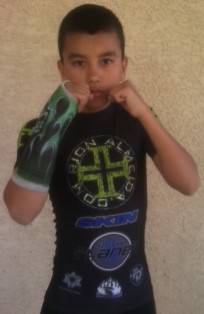 The picture to the left is the front of the rashguard that represents Rion's round logo design and those of his sponsors.
The Cross on Rion's logo was influenced by his Christianity and the flag from the Madeira Islands in Portugal.
Portugal is where Rions  ancestors came from and where he would like to visit someday soon.
Thank You Skin Industries
Rion would like to thank Al Borda of Skin Industries.
Thank you for believing in me and allowing me the opportunity to represent Skin Industries Clothing, I wont let you down.
Also seen in these pictures is Rion's custom airbrushed cast.
He recently broke his wrist in training while preparing for two Pankration fights that take place in April.
Do to his injury he was not able to participate in these Pankration events.
Look for Rion wearing his new Skin Industry at a fight event near you.