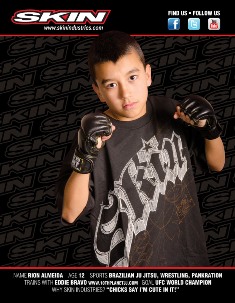 Skin Industries astounds Rion with a sponsorship deal that is "out of this world."
His very first day at Skin Industries was filled with hanging with the CEO Al Borda.
Al introduced him to everyone at Skin Industries, gave him a tour of the warehouse.
While in the warehouse he got dressed from head to toe in product (enough swag that he can wear skin everyday).
The day was not over yet.
Al called his cameraman and the professional photo shoot began.
Then shortly thereafter Rion was reading Tapout magazine.
He was completely blown away again when he sees a full page ad of himself wearing Skin clothes with his MMA gloves on.
He recognized this photo from the first days photo shoot.
About a month after that while reading MMA Worldwide.
Rion sees himself again in another full page ad for Skin Industries.
See more about Rion on Skins website.
Rion said, "I want to thank Al and Skin Industries for making my dreams come true and supporting me so much.
Skin put my name out there by putting me in two magazines and I can't thank them enough.
I am going to do my part to represent Skin to the max."
When Skin Industries makes the commitment to sponsoring someone they don't pull any punches.
They go all out investing time and money into that person.
Skin Industries customer service is phenomenal!
I don't know of any other company where the CEO actually communicates with the customers and cares as much as Al does.
Skin Industry is the leading sports fashion company that all others try to imitate.
Skin Industries has a full line of products from hats to socks, underwear to outerwear and designs for men, women and children in all sports, at all levels.
Skin Industry even has products for your car or motorcycle.
Al says, "Its not just a T-shirt company it's a life style."
Read more about Skin Industries and the custom rashguards they made for Rion.